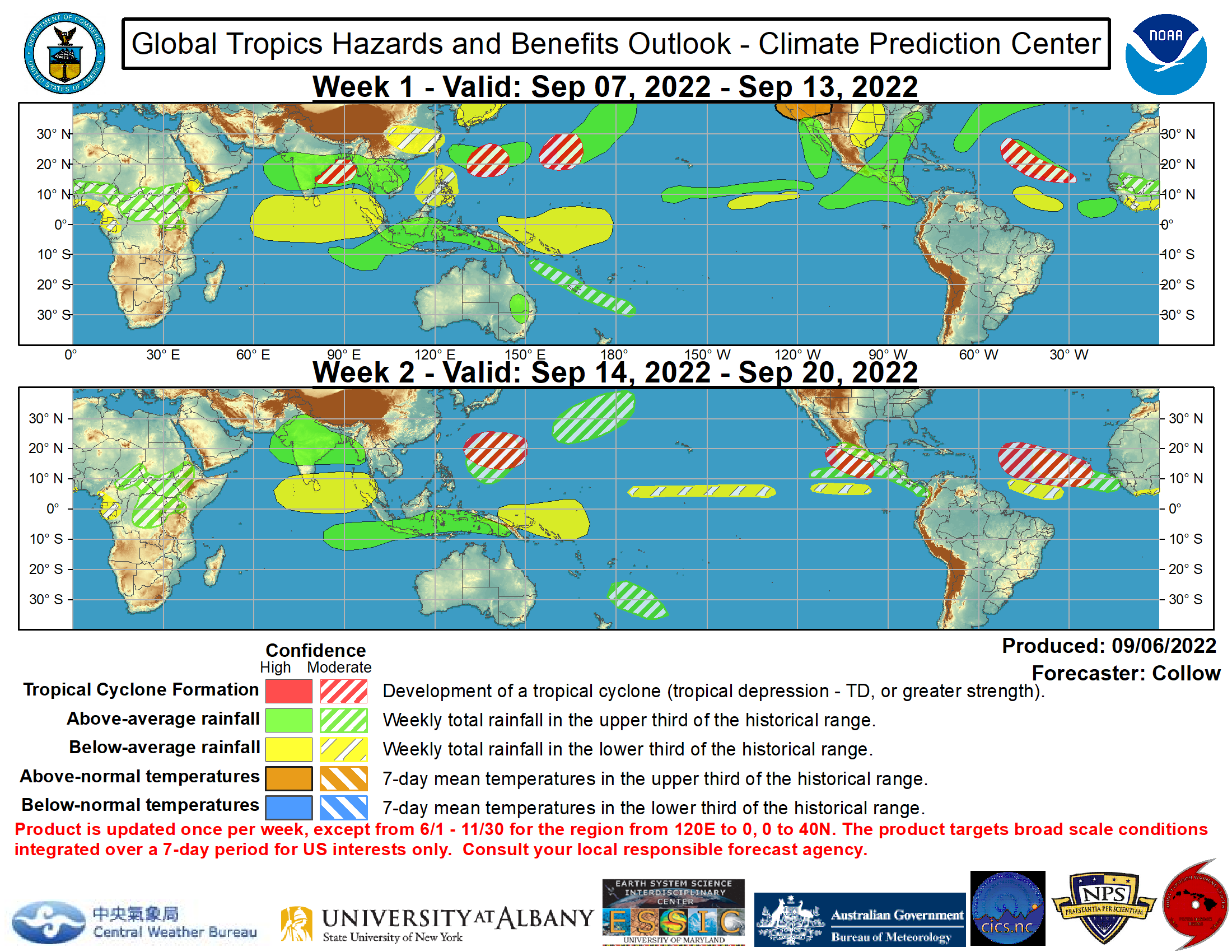 Graphic provided by Climate Prediction Center
What is a Hurricane?
A hurricane (or typhoon, or severe tropical cyclone), the strongest storm on Earth, is a cyclonic (rotary) storm that derives its energy from cloud formation and rainfall, unlike frontal cyclones that derive their power from a temperature gradient. Full Article
Saffir-Simpson Scale
Category 1 – 74-95 mph (64-82 knots; 119-153 km/hr). Damage is limited to foliage, signage, unanchored boats and mobile homes. There is no significant damage to buildings. The main threat to life and property may be flooding from heavy rains.
Category 2 – 96-110 mph (83-95 knots; 154-177 km/hr). Roof damage to buildings. Doors and windows damaged. Mobile homes severely damaged. Piers damaged by storm surge. Some trees blown down, more extensive limb damage. Full Article
Tropical Cyclone Formation
Tropical Cyclone Genesis is the technical term for the process of storm formation that leads ultimately to what are called hurricanes, typhoons, or tropical cyclones in various parts of the world.
This occurs when, in the Northern Hemisphere, the Intertropical Convergence Zone, or ITCZ, shifts northward out of the doldrums and atmospheric conditions become favorable for tropical cyclone formation after about the middle of May. Full Article

Tropical Storm ANA Forecast Track (Central Pacific Hurricane Center)




CPHC Central Pacific Wallet 5 - Tropical Storm Ana (CP5/CP022014)

Sun, 26 Oct 2014 05:50:03 GMT

...ANA ACCELERATING NORTHEASTWARD OVER THE OPEN OCEAN... As of 5:00 PM HST Sat Oct 25 the center of Ana was located near 38.1N 157.4W with movement NE at 40 mph. The minimum central pressure was 986 mb with maximum sustained winds of about 70 mph.

...ANA ACCELERATING NORTHEASTWARD OVER THE OPEN OCEAN...
Location: 38.1°N 157.4°W
Max sustained: 70 mph
Moving: NE at 40 mph
Min pressure: 986 mb


Issued at 0300 UTC SUN OCT 26 2014

Issued at 500 PM HST SAT OCT 25 2014

Issued at 0300 UTC SUN OCT 26 2014


5-Day Uncertainty Track last updated Sun, 26 10 2014 02:38:40GMT


Wind Speed Probabilities last updated Sun, 26 10 2014 03:24:52 GMT

GIS Data last updated Sun, 26 10 2014 02:41:47 GMT
Tropical Storm ANA Spaghetti (UWM)
Satellite Imagery
Satellite Animations

Tropical Cyclone 04A Forecast Track (Joint Typhoon Warning Center)



Satellite Imagery
Satellite Animations
---
COPYRIGHT ©1995-2014. ALL RIGHTS RESERVED. REPUBLICATION OR REDISTRIBUTION OF HURRICANEZONE.NET CONTENT, INCLUDING BY FRAMING OR SIMILAR MEANS,
IS EXPRESSLY PROHIBITED WITHOUT THE PRIOR WRITTEN CONSENT OF JONATHAN EDWARDS. THE HURRICANEZONE.NET LOGO AND THE WORDS
"REAL-TIME HURRICANE INFORMATION AROUND THE GLOBE" IS A TRADE MARK OF JONATHAN EDWARDS.
JONATHAN EDWARDS SHALL NOT BE LIABLE FOR ANY ERRORS OR DELAYS IN CONTENT,
OR FOR ANY ACTIONS TAKEN IN RELIANCE THEREON.